Looking For Professional Dental Services In Dumont?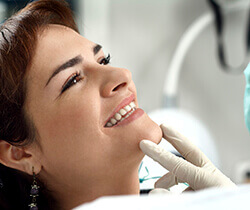 Dental care is important. If you want to develop a strong professional portfolio, you'll need a shimmering smile to win over employers and clients. Or maybe you simply want strong, healthy teeth so that you avoid the issues associated with poor dental hygiene. Whatever your reasons for wanting to maintain good dental health are, your answer is Haworth Dental. We have provided top-quality dental services to Dumont residents for over fifty years now, and in that time, our dentists have mastered a variety of dental services: everything from checkups and cleanings to cosmetic dentistry.
Routine checkups and cleanings are necessary for maintaining your dental health. You can brush and floss and wash your mouth every day, twice a day, and those steps are certainly invaluable in maintaining a healthy smile your whole life long; but to get the most out of those steps, you need to get your teeth checked by a dental professional. Here at Haworth Dental, we'll make sure that your teeth are as clean as they can possibly be. And we can even provide you with the smile you've always dreamt of with our restorative dental services: orthodontics, crowns, cleanings, etc.
Checkups & Cleanings In Dumont, NJ
You can clean and inspect your teeth every day, and doing so certainly helps maintain your dental health. But without a dentist's equipment and expertise, you could always be overlooking one problem or another that you either can't see or don't recognize as a problem. Luckily for you, though, the experts at Haworth Dental will recognize any and all dental problems, and they can get them fixed up in a jiffy. And should your daily dental hygiene routine not be quite as thorough as it should be, our team of dental experts can get your teeth shining like brand new with our top-quality cleaning services.
Cosmetic Dentistry In Dumont, NJ
Whether you have faced some serious dental problems or you're just not completely happy with how your teeth currently look, you can rely on the dental experts at Haworth Dental to outfit you with a brand new set of teeth with our top-of-the-line cosmetic dental services. We can straighten your teeth with our orthodontics - including Invisalign - and we can whiten your teeth. We can even shape the size, shape, and color of your teeth with with porcelain veneers. Don't be unhappy with the look of your teeth. Just call up the experts at Haworth Dental for cosmetic dental services that will give you the smile you've always wanted.
See What Customers in Dumont, NJ are Saying About Us
Haworth Dental is Rated: 5 / 5
based on these 2 happy customer reviews.
---
"He made me feel SO comfortable and even rocked my baby's carseat when she got fussy and I was in the chair. I hate dentists and left very happy. Dr Lebel explained everything and showed me everything on the X-rays. He was just amazing! Thank you"
"I have been changing dentists constantly and was not happy with any of them. My son recommended me Dr. Label. Since my first visit to this doctor the only thing I regretted that I was not his patient before. He is exemplary doctor, talented with good hands, dedicated to his profession and his patients, constantly following all new developments in dentistry. Simply put he is the best. In addition all his staff is extremely professional, courteous and friendly."
Recent Articles
What Should Your Daily Dental Routine Consist Of?

Your teeth are important. You eat with them, and they make up your smile, which can be one of your best or worst features, depending on how well-cared-for your teeth are. But how do you maintain healthy teeth? The answer is quite simple, yet many people don't manage to keep their teeth clean and white because either they don't bother maintaining an effective oral care routine or they don't know what goes into an effective oral care routine…

Read More


What Can I Expect from Cosmetic Dentistry?

Your teeth say a lot about you, but no matter how beautiful they are, you might find yourself unsatisfied with WHAT they're saying about you or HOW they're saying it. After all, we all have our own sense of identity, and if some aspect of ourselves eddies against that identity, we're apt to feel a little discordant and dissatisfied…

Read More
If you are looking for professional dental services in Dumont, then please call (201) 384-1717 or complete our online request form.