In Need Of Expert Paramus Dental Care?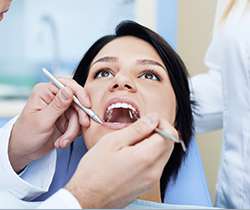 Are you a Paramus resident who's looking for top-quality dentist near you? If so, then look no further than the experienced dental professionals at Haworth Dental! With over fifty years in the business, we have mastered a variety of dental-care techniques to help you get and maintain the most beautiful smile you can possibly have. Whether you are looking for a dental checkup, cleaning, or dental crowns, you can rely on the experts at Haworth Dental to provide you with excellent versions of those Paramus dental services plus many more! Your smile is important, so it's important that you get one that shines like brand new, and with Haworth Dental, that's exactly what you'll get!
For the health of your teeth, it is important to get regular dental checkups and cleanings. A checkup helps to figure out what shape your teeth are in, and should that shape require a little cleaning, you can get your teeth cleaned by a professional dental expert. And should your teeth have suffered damage that goes beyond what a cleaning can fix, then you can have dental crowns put in to make your teeth look and function like brand new! If you are in the market for any of these services (or many other great dental services), then make Haworth Dental your first and last stop!
Paramus Checkups & Cleanings
Your teeth are like your car: You have to get them checked on by a professional regularly to be sure they remain in the best shape possible. And to keep your teeth in the best shape possible, you'll need to get regular dental checkups and cleanings. With a dental checkup, your dentist will examine your teeth for any issues you might not have noticed or been able to effectively address. And should one of those problems be that your teeth aren't QUITE as clean as they could be, then your dentist will be able to provide a top-notch cleaning to get your teeth sparkling like brand new.
Reliable Dental Crowns In Paramus
If your tooth has been chipped or broken, don't fret! We understand the pain you can experience with a damaged tooth is bad enough without having an unsightly broken tooth to top it off. If you have a cracked or broken tooth, just get a dental crown put in! A crown will cover your broken tooth with a cap that can be made to replicate the natural color of your teeth. Thus, with a crown, you can enjoy the look and sturdiness of a new tooth even after your old one has suffered damage.
Recent Articles
What Should Your Daily Dental Routine Consist Of?

Your teeth are important. You eat with them, and they make up your smile, which can be one of your best or worst features, depending on how well-cared-for your teeth are. But how do you maintain healthy teeth? The answer is quite simple, yet many people don't manage to keep their teeth clean and white because either they don't bother maintaining an effective oral care routine or they don't know what goes into an effective oral care routine…

Read More


What Can I Expect from Cosmetic Dentistry?

Your teeth say a lot about you, but no matter how beautiful they are, you might find yourself unsatisfied with WHAT they're saying about you or HOW they're saying it. After all, we all have our own sense of identity, and if some aspect of ourselves eddies against that identity, we're apt to feel a little discordant and dissatisfied…

Read More
If you are looking for top quality dental services near Paramus, then please call (201) 384-1717 or complete our online request form.