Reliable Porcelain Veneers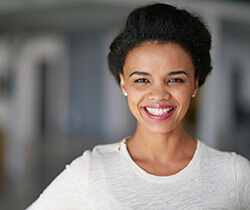 Time and life have a way of wearing away at your teeth. Daily usage can grind them down into a lumpy mess. Acidic drinks can cause the enamel to rot away. And accidents of all kinds can create chips in your teeth.
If you have suffered from any of these dental misfortunes, then don't become disheartened. You can always restore your teeth to beautiful, like-new condition with porcelain veneers! Veneers are small caps that are affixed to the front halves of your teeth to hide issues such as chips and wear. They can also help with teeth that are uneven or oddly shaped.
If you want your smile to sparkle like brand new, then call the experts at Haworth Dental! Our experienced dentists have the equipment and expertise to fit you with a new pair of porcelain veneers so that your smile looks like a million bucks again!
Close Gaps
Gaps in your teeth can develop for a variety of reasons: tooth decay, chips, irregular tooth growth, etc. Whatever the reason may be for your dental gaps, the result is all one: a smile that you might never be one hundred percent happy with.
Please note that veneers CANNOT fix gaps caused by MISSING teeth. If a tooth has fallen out, you need a bridge or something else that's made to replace missing teeth. If, on the other hand, your teeth have gaps for any reason besides missing teeth, you can rely on porcelain veneers to close those gaps.
Veneers look completely authentic and can be made to replicate your teeth's natural color. For these reasons, you can rely on porcelain veneers to fill the gaps in your teeth without drawing attention to themselves. After all, the point of veneers is to draw attention away from your dental problems so that you and everyone else can focus on how dazzling your smile is!
Cover Discolored Teeth
Just as many things can wear away at your teeth, many things can also discolor them: food, drinks, excessive fluoride, etc. And once your teeth become discolored, it's hard to flash a smile that will win people over!
If your teeth have become discolored over the years, then veneers are just the thing to cover the stains and KEEP them covered for a good, long time to come! If you are in the market for top-quality veneers, then look no further than the experts at Haworth Dental to outfit you with the best veneers you could hope for!
Recent Articles
What Should Your Daily Dental Routine Consist Of?

Your teeth are important. You eat with them, and they make up your smile, which can be one of your best or worst features, depending on how well-cared-for your teeth are. But how do you maintain healthy teeth? The answer is quite simple, yet many people don't manage to keep their teeth clean and white because either they don't bother maintaining an effective oral care routine or they don't know what goes into an effective oral care routine…

Read More


What Can I Expect from Cosmetic Dentistry?

Your teeth say a lot about you, but no matter how beautiful they are, you might find yourself unsatisfied with WHAT they're saying about you or HOW they're saying it. After all, we all have our own sense of identity, and if some aspect of ourselves eddies against that identity, we're apt to feel a little discordant and dissatisfied…

Read More
If you are interested in Porcelain Veneers, then please call our experienced Dentists at (201) 384-1717 or complete our online request form.