Your Trusted Haworth Dentist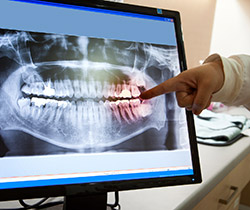 Your teeth are vital. You eat with them, and they make up your smile - that beautiful feature of yours that can send just about the strongest impression of you possible. For such a vital part of you, you want to keep your teeth in the best shape you can. That's why you need the experts at Haworth Dental. We have been providing top-quality dental care in Haworth and the surrounding areas since 1966. During our long time in the business, we have provided all sorts of dental services to keep your smile shining brightly for years to come!
Some of these services include preventive dentistry and restorative dentistry. These services are excellent for helping you maintain a strong, shining smile your whole life long. You can brush and floss every day, and those steps are certainly helpful for keeping your teeth strong and cavity-free; but without professional dental equipment and expertise, you can't give your teeth the best care possible. That's where our expert dentists come in. We can help prevent decay from happening, and should it have already happened, we can get your teeth looking like brand new again in no time!
Preventive Dentistry In Haworth
You already know what can happen if your dental health-care routine is less than top-notch: cavities, gum disease, enamel wear, and so forth. Once any of these problems plague your teeth, you could be facing some expensive dental procedures - and that's not to mention the pain and discomfort you could be facing! Before this kind of dental wear happens, call up the dental care experts at Haworth Dental. We offer a variety of preventive dental care services such as cleanings and routine checkups to ensure that your smile stays strong and beautiful your whole life long!
Reliable Haworth Restorative Dentistry
Even with your rigorous daily dental routine and regular dental checkups, you could find yourself dealing with tooth decay down the road. It just happens, and it can certainly be frustrating. But dental problems of any kind (decay, enamel wear, tooth loss) are sometimes unavoidable for one reason or another. If you find yourself dealing with those problems, then just contact Haworth Dental for top-quality restorative dentistry services. We can fit you with crowns and bridges, and we can perform a variety of other restorative services to get your teeth looking and feeling like new again.
See What Customers in Haworth, NJ are Saying About Us
Haworth Dental is Rated: 5 / 5
based on these 3 happy customer reviews.
---
"Dr. Lebel was great he explained everything he was going to do before proceeding and his bed side manor was very comforting. My comfort was very important to him and he has magic hands I didn't feel any discomfort or pain which was a concern for me. His staff was friendly and professional. I will be recommending him to anyone who needs a dentist I really don't like sitting in the "chair" but now that I've met him and received care from him I'm no longer worried about trip to the dentist. 5 stars are not enough to rate him 10 would be more like it,if you can get an appointment with him I recommend you take it."
"If you want to be treated as a partner not just another patient, this should be your dental practice. Gentle touch and endless patience to explain procedures and options. An honest & sincere professional."
"I loved everything about this Dentist office. From the friendly receptionist, knowledgeable medical assistant, and the absolutely awesome doctor; everything is as it should be and more doctor offices should learn from them about how to treat a patient. I will definitely be back and I will recommend them to others."
Recent Articles
What Should Your Daily Dental Routine Consist Of?

Your teeth are important. You eat with them, and they make up your smile, which can be one of your best or worst features, depending on how well-cared-for your teeth are. But how do you maintain healthy teeth? The answer is quite simple, yet many people don't manage to keep their teeth clean and white because either they don't bother maintaining an effective oral care routine or they don't know what goes into an effective oral care routine…

Read More


What Can I Expect from Cosmetic Dentistry?

Your teeth say a lot about you, but no matter how beautiful they are, you might find yourself unsatisfied with WHAT they're saying about you or HOW they're saying it. After all, we all have our own sense of identity, and if some aspect of ourselves eddies against that identity, we're apt to feel a little discordant and dissatisfied…

Read More
If you are looking for a reliable Dentist in Haworth, then please call (201) 384-1717 or complete our online request form.