Emerson Dental Professionals You Can Rely On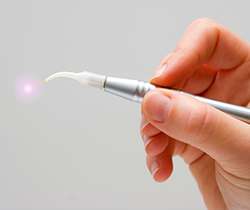 Are you looking for top-quality dental services in Emerson or the surrounding areas? If so, then look no further than the experts at Haworth Dental! We have been established in the area since 1966, and in our fifty-plus years in the business, we have proven ourselves to be masters at many different dental services. Just a couple of these services are checkups and cleanings. We also offer emergency dental care in case you find yourself in need of immediate dental care. When it comes to caring for your teeth, you should seek out only the best dentist; and the best is what we at Haworth Dental are!
You clean your teeth every day: brushing, flossing, washing. These dental routines certainly help to maintain the health and beauty of your teeth, but teeth cannot live on brushing alone. They also need the help of experienced dental professionals to keep them looking beautiful for many years to come. With Haworth Dental, you have just that professional to keep your teeth shining with our top-of-the-line checkups and cleanings. And should you need a much more drastic and immediate service performed on your teeth, you can come by for an emergency dental care. With Haworth Dental, you can be sure that your teeth will get nothing but the best service around!
Checkups & Cleanings In Emerson
Your teeth are not a rock. A rock you can put anywhere, forget about it, and when you check back on it, it's still in the same shape it always was. Your teeth, though, need attention: daily brushing, flossing, washing, etc. And to be sure you're getting the most out of your daily attention, you need to add in regular dental checkups and cleanings. Theses additions help you know what shape your teeth are in so that you can keep them in the best shape possible. Your teeth might not be a rock, but with regular checkups and cleanings, they can be as strong as one for years to come!
Emergency Dental Care In Emerson
We understand that it can sometimes take quite a long time to schedule a dentist appointment. You might have to wait weeks and even MONTHS during certain busy times! But some problems can't wait months or even weeks or even days or even HOURS to be addressed. If your teeth have been knocked out by a freak accident, you might need to see a dentist RIGHT NOW. If that's the case, then you can rely on the experts at Haworth Dental to provide you with top-quality emergency dental care!
See What Customers in Emerson, NJ are Saying About Us
Haworth Dental is Rated: 5 / 5
based on these 2 happy customer reviews.
---
"Only the best service I have ever experienced from a professional. Everything was well explained and all options presented in detail. Along every step of the way my visits with Dr. Lebel were the most pleasant they could be. A true maven in his field."
"Great doctor with excellent bedside manner. Explains everything before he does any work and is very gentle. Would recommend (and have recommended many) highly to adults and children alike."
Recent Articles
What Should Your Daily Dental Routine Consist Of?

Your teeth are important. You eat with them, and they make up your smile, which can be one of your best or worst features, depending on how well-cared-for your teeth are. But how do you maintain healthy teeth? The answer is quite simple, yet many people don't manage to keep their teeth clean and white because either they don't bother maintaining an effective oral care routine or they don't know what goes into an effective oral care routine…

Read More


What Can I Expect from Cosmetic Dentistry?

Your teeth say a lot about you, but no matter how beautiful they are, you might find yourself unsatisfied with WHAT they're saying about you or HOW they're saying it. After all, we all have our own sense of identity, and if some aspect of ourselves eddies against that identity, we're apt to feel a little discordant and dissatisfied…

Read More
If you are looking for an experienced Emerson Dentist, then please call (201) 384-1717 or complete our online request form.