Professional Cosmetic Dentistry In Haworth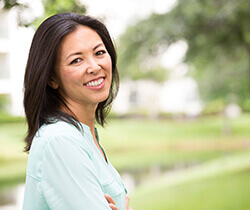 Not all dentist visits are due to dental problems. Cleanings are important, fillings are important, crowns and bridges and dentures are all important… but your self-esteem is important, too. And if your teeth - while healthy - are not in the best shape that they can be, then your self-esteem could go WAY down. After all, being afraid just to smile can do a number on someone's confidence.
Don't let a smile that's not everything you want it to be bring down your morale. You are beautiful inside and out, and a great way to complement that beauty is with a brand new smile, which a qualified dental expert can provide you with!
And the team at Haworth Dental is just the expert to give you that new smile! If you are in the market for top-quality cosmetic dentistry, then look no further than Haworth Dental. We have been dental consultants for major motion pictures, so you can be sure that with a cosmetic dental procedure from Haworth Dental, you'll have a new smile that's fit for a movie star!
Veneers
Are you unhappy with the basic look of your teeth: color, shape, size, length? These are things that you can't control when your teeth are growing in. You more or less just drift along while your body decides the kind of smile you'll carry around for the rest of your life.
Yes, it's true that YOU don't have any say over the basic look of your teeth… But WE at Haworth Dental DO. And we can do so with veneers.
Dental veneers are thin, custom-made shells that are affixed to the front of your teeth to provide you with the appearance that you are dreaming of. Don't go through life unhappy with the smile that nature gave you. Just call the experts at Haworth Dental, and we'll give you the smile you WISH your body would have!
Braces
The shape, size, and color of your teeth can prove to be a thorn in your side, but so can the way that your teeth grow. Some people are naturally gifted with straight teeth. Others, on the other hand, have teeth that look like shingles after a tornado.
If your teeth's appearance fit the latter description, then call up the experts at Haworth Dental for expert brace work. You may have had no say in the way your teeth came in so crookedly, but we certainly have a say in the way that we're going to undo that crookedness for good.
Unhappy with your not-quite-straight teeth? Well, then, brace yourself: A new smile is coming.
Recent Articles
What Should Your Daily Dental Routine Consist Of?

Your teeth are important. You eat with them, and they make up your smile, which can be one of your best or worst features, depending on how well-cared-for your teeth are. But how do you maintain healthy teeth? The answer is quite simple, yet many people don't manage to keep their teeth clean and white because either they don't bother maintaining an effective oral care routine or they don't know what goes into an effective oral care routine…

Read More


What Can I Expect from Cosmetic Dentistry?

Your teeth say a lot about you, but no matter how beautiful they are, you might find yourself unsatisfied with WHAT they're saying about you or HOW they're saying it. After all, we all have our own sense of identity, and if some aspect of ourselves eddies against that identity, we're apt to feel a little discordant and dissatisfied…

Read More
If you are looking for Cosmetic Dentistry, then please call our experts in Haworth at (201) 384-1717 or complete our online request form.