Trusted Restorative Dentistry Services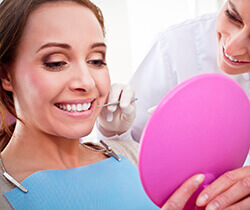 Tooth decays happens. It's just an unfortunate fact of life. While you can take meticulous care of your teeth your whole life long, at some point, you can expect to run into some kind of breakdown in a tooth or two.
Once that happens, don't worry about hiding your smile. Just call up the expert dentists at Haworth Dental to get your teeth looking like brand new again! With our many restorative dental services, we have all of the resources to reverse any chips and decay in your smile so that it shines like brand new.
You get only one smile, and thanks to the experts at Haworth Dental, you don't have to lose heart when that smile starts to look a little worse for wear. We'll make it look even more beautiful than ever with some of our top-of-the-line restorative services - services which include…
Dental Crowns
Your teeth can crack or chip for a variety of reasons. Whatever the reason for your busted teeth, there's one solution that you can always rely upon: dental crowns. These handy inventions cover up teeth that are in any state of damage. We will cement them around your teeth, fully and securely covering your damaged choppers. We will even match the color of your natural teeth so that your crown doesn't stand out!
Life can do a number on your teeth, but that doesn't mean that that number can't be undone. If life has gotten to your teeth, just call the experts at Haworth Dental for a dental crown that'll get your smile looking like brand new again!
Cosmetic Dentures
Many elderly people lose enough of their natural teeth that they are unable to eat efficiently or - should they be unable to masticate their food sufficiently - safely even. This problem can affect their general look as well as the quality of their life.
If you or an elderly relative has lost enough teeth that just eating has become a challenge, then call up the experts at Haworth Dental for cosmetic dentures. We can supply dentures for people who have lost all of their teeth, and we can even supply partials for those who have lost many but not all of their natural teeth.
Don't let substantial tooth loss affect your life. Just call the experts at Haworth Dental for great-looking, great-fitting dentures today!
Recent Articles
What Should Your Daily Dental Routine Consist Of?

Your teeth are important. You eat with them, and they make up your smile, which can be one of your best or worst features, depending on how well-cared-for your teeth are. But how do you maintain healthy teeth? The answer is quite simple, yet many people don't manage to keep their teeth clean and white because either they don't bother maintaining an effective oral care routine or they don't know what goes into an effective oral care routine…

Read More


What Can I Expect from Cosmetic Dentistry?

Your teeth say a lot about you, but no matter how beautiful they are, you might find yourself unsatisfied with WHAT they're saying about you or HOW they're saying it. After all, we all have our own sense of identity, and if some aspect of ourselves eddies against that identity, we're apt to feel a little discordant and dissatisfied…

Read More
If you are looking for professional Restorative Dental Services then please call (201) 384-1717 or complete our online request form.