Your Experienced and Trusted Oradell Dentist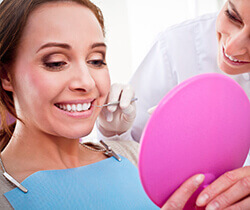 You should never underestimate the importance of your teeth. They help create one of your strongest features: your smile. And its quality depends on their quality. You also use them every day as you eat, so they provide an important practical service, too. To maintain such an important part of yourself, you need top-of-the-line Oradell dental experts; and the folks at Haworth Dental are just the experts for you! We have provided excellent dental care to Oradell residents for over fifty years now, providing vital services such as preventive dental care and children's dentistry.
Just as you shouldn't wait until your car is basically undrivable before you get it tuned-up, you shouldn't wait until your teeth are falling out before you get them looked at. To keep your teeth in your head, just utilize Haworth Dental's top-quality preventive dental care. Our dentists will get your teeth checked out and cleaned to keep them shining strong for years. We can provide preventive services to adults and even children with our children's dentistry services.
Preventive Dentistry Services in Oradell
You should always brush and floss and wash your teeth and scrape your tongue. Every day, most of these routines twice a day. That's how YOU keep your teeth healthy. And how WE keep your teeth healthy is with preventive dental services. Your daily dental routine is certainly invaluable for keeping your teeth bright and strong, but it's not always enough. There will always be some nooks and crannies you either can't see or don't think to attack with your floss and brush, and those nooks and crannies could develop dental problems. To prevent these problems from happening, just come in for routine cleanings at checkups with Haworth Dental.
Friendly Oradell Children's Dentistry
Good dental hygiene should start young. But it's hard to encourage kids to take on good habits when those habits are repetitious and, frankly, not particularly fun. Don't take on that challenge all by yourself. You have a teammate in Haworth Dental. Our dental experts will help keep your children's teeth strong and healthy with routine checkups and cleanings. And should your child need fillings, crowns, or any other such dental services, we also provide those to children! Don't take on your child's dental care all by yourself. Call on the experts at Hawthorn Dental for help.
See What Customers in Oradell, NJ are Saying About Us
Haworth Dental is Rated: 5 / 5
based on these 2 happy customer reviews.
---
"The appointments are great because there is not a long wait, staff is very friendly and accommodating, kids feel comfortable and not intimidated. Dr. Label is extremely passionate about teeth. His energy, humor and knowledge make the overall experience very enjoyable! He does amazing filling work and there is zero pain involved! My only suggestion is that the cleanings by the technician could be a little more thorough. I think a little more time and care to get them feeling super clean would have made it a 5 star experience!"
"I like the way he explained to what was going on with my teeth in a very detailed explanation. I think that really helped a great deal to understanding what my teeth looked like and what actions I need to take from my part... He was great!!"
Recent Articles
What Should Your Daily Dental Routine Consist Of?

Your teeth are important. You eat with them, and they make up your smile, which can be one of your best or worst features, depending on how well-cared-for your teeth are. But how do you maintain healthy teeth? The answer is quite simple, yet many people don't manage to keep their teeth clean and white because either they don't bother maintaining an effective oral care routine or they don't know what goes into an effective oral care routine…

Read More


What Can I Expect from Cosmetic Dentistry?

Your teeth say a lot about you, but no matter how beautiful they are, you might find yourself unsatisfied with WHAT they're saying about you or HOW they're saying it. After all, we all have our own sense of identity, and if some aspect of ourselves eddies against that identity, we're apt to feel a little discordant and dissatisfied…

Read More
If you are looking for a reliable Dentist in Oradell, then please call (201) 384-1717 or complete our online request form.