Looking For Invisalign Dental Services?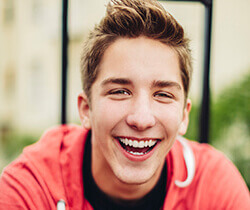 Your smile makes one of the first and biggest impressions on other people. To make the best impression possible, you want to be able to flash a million-dollar smile at everyone you meet. But if your smile is a little less than straight, that might be all that people notice.
If you are unfortunate enough to have crooked teeth, then don't lose heart: You are FORTUNATE enough to have access to Invisalign!
Invisalign is one of the best products out there for straightening your teeth. What makes it so great is that it is - as its name indicates - INVISIBLE. Thus, with Invisalign, you can enjoy the process of getting straight teeth without the disruption of having metal braces in your mouth.
If you are ready to have the most gorgeous smile possible to make the best impressions possible, then look no further than the experts at Haworth Dental. We carry Invisalign, and we have the skills to provide you with your very own custom-made pair.
Don't settle for making "crooked teeth" your strongest impression, and don't let traditional braces disrupt your life. Just call our expert dentists for Invisalign.
Custom-Made For Your Teeth
No two Invisaligns are the same, because no two sets of teeth are the same. This is great news for ANYONE looking to straighten their teeth. Invisalign is made to order specifically for your teeth…
Perhaps the greatest benefit to having a custom-made teeth-straightening product is that no set of teeth will be too crooked to fix. So you might think that your smile is beyond repair, but with Invisalign, that's simply not true.
If you're ready to enjoy a beautiful new smile with a product that's custom-made specifically for your teeth, then call the Invisalign experts at Haworth Dental to get Invisalign today!
Comfortable
Traditional braces are quite effective at straightening your teeth, but they are also quite uncomfortable. Invisalign, on the other hand, is both effective AND comfortable. Since it is custom-made for your teeth, you won't have to force your teeth to contort into uncomfortable positions just to begin to straighten out.
And since the Invisalign strips are made to be replaced every two weeks to straighten your teeth little by little, the process of straightening your teeth will be gradual and far less painful than the same process is with braces.
If you are ready to enjoy a beautiful new smile without sacrificing any of your comfort, contact the experts at Haworth Dental for your new, custom-made Invisalign today!
Recent Articles
What Should Your Daily Dental Routine Consist Of?

Your teeth are important. You eat with them, and they make up your smile, which can be one of your best or worst features, depending on how well-cared-for your teeth are. But how do you maintain healthy teeth? The answer is quite simple, yet many people don't manage to keep their teeth clean and white because either they don't bother maintaining an effective oral care routine or they don't know what goes into an effective oral care routine…

Read More


What Can I Expect from Cosmetic Dentistry?

Your teeth say a lot about you, but no matter how beautiful they are, you might find yourself unsatisfied with WHAT they're saying about you or HOW they're saying it. After all, we all have our own sense of identity, and if some aspect of ourselves eddies against that identity, we're apt to feel a little discordant and dissatisfied…

Read More
If you are looking for Invisalign services from a reliable Dentist, then please call Haworth Dental at (201) 384-1717 or complete our online request form.