Emergency Dental Care Services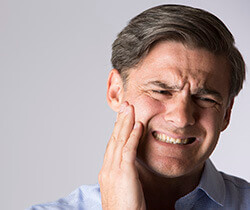 Life isn't always particularly gentle on your teeth. Sometimes, it leaves them discolored, chipped, maybe a little loose. It can make your smile look a little less beautiful than it can look while also making you feel a little worse than you can feel.
Other times, though, life knocks your smile clean out - at least your teeth. Or maybe it just leaves you with a bad infection that causes your face to swell. It could even cause something to cut your gums and leave them bleeding, which could result in some serious infections if left untreated.
We at Haworth Dental understand that your teeth can take a serious beating any time of the day. We also understand that dental services aren't always the fastest thing to receive. You might find yourself waiting weeks or even MONTHS to get an appointment, and when you're looking at a tooth that just got knocked out, you don't have time to wait to have it re-implanted.
When life hits your teeth a little too hard, don't sweat it. We at Haworth Dental offer emergency dental care to help address the worst of your dental woes. If you are dealing with a serious dental problem that needs to be looked at ASAP, then make our dentists your first call!
Don't Live With Pain
The worst part about serious dental problems is the pain - which can be quite serious. And the worst part about serious pain is that it becomes your life. You can hardly work, drive, think, or even exist when you are suffering from serious dental pain. Once that hits you, your whole world becomes that pain.
Don't try to schedule an appointment and wait days, weeks, or even MONTHS to have your dental pain alleviated. Come to Haworth Dental for emergency dental care. We understand that it's hard to live a normal life when your whole existence has been replaced by a searing pain in your mouth. Don't let the pain become your life. Let us get you feeling like a human being again with our emergency dental care services.
If you are experiencing severe dental pain, call the experts at Haworth Dental. We offer emergency services to get your dental problems under control and your life back on track. And with our fifty-plus years in the business, you can rest assured that we will provide you with the top-notch kind of service that only half a century of work can provide.
Recent Articles
What Should Your Daily Dental Routine Consist Of?

Your teeth are important. You eat with them, and they make up your smile, which can be one of your best or worst features, depending on how well-cared-for your teeth are. But how do you maintain healthy teeth? The answer is quite simple, yet many people don't manage to keep their teeth clean and white because either they don't bother maintaining an effective oral care routine or they don't know what goes into an effective oral care routine…

Read More


What Can I Expect from Cosmetic Dentistry?

Your teeth say a lot about you, but no matter how beautiful they are, you might find yourself unsatisfied with WHAT they're saying about you or HOW they're saying it. After all, we all have our own sense of identity, and if some aspect of ourselves eddies against that identity, we're apt to feel a little discordant and dissatisfied…

Read More
If you are looking for Emergency Dental Care, then please call our professionals at (201) 384-1717 or complete our online request form.