Professional Dental Care For Demarest Residents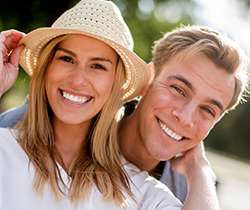 Are you in the market for top-quality Demarest dental care by experienced dentist professionals you can trust? Are you a resident of Demarest or one of the surrounding areas? If you answered "yes" to either of those questions, then you are in luck! Why are you in luck? Because you have access to Haworth Dental, located in Haworth, New Jersey! Established in 1966, we at Haworth Dental have been providing top-quality dental care to residents of Demarest for over fifty years now. We offer a wide variety of top-quality dental services, including preventive dental care and tooth-colored fillings.
These services will keep your teeth both beautiful AND strong for many years to come. Preventive dental care is, of course, vital for maintaining healthy teeth. After all, as they say, the best offense is a good defense, and preventing plaque before it strikes is your best offense against tooth decay. But should decay or other damages occur to your teeth, you can get tooth-colored fillings to make your teeth as beautiful and as strong as brand new!
Preventive Dental Care In Demarest
Having healthy, beautiful teeth can be an expensive process if your teeth have already degraded to the point that you'll require dental procedures to get them in shape again. The best way to avoid having to fork over the money for such procedures is to prevent damages from happening. And how do you do that? By taking on preventive dental measures! Those measures include brushing, flossing, and washing EVERY day. They also include seeing the dental experts at Haworth Dental for routine checkups and cleanings to keep your teeth in excellent condition.
Tooth-colored Fillings In Demarest
If, however, your teeth have received less than stellar preventive work, they might develop chips and cavities. Should you have such unsightly problems with your teeth, you can fix them with fillings. And because dental technology has advanced beyond when your grandfather was a kid, your fillings don't have to leave you with a mouthful of metal-filled teeth. Instead, you have the option of using tooth-colored fillings that will leave your teeth looking beautiful and natural and being strong.
See What Customers in Demarest, NJ are Saying About Us
Haworth Dental is Rated: 5 / 5
based on these 3 happy customer reviews.
---
"This is the real doctor, extremely skillful, courteous, not a "business" doctor who is looking just for your money not for your benefit. Me and all my family are the patients and I wish I see more doctors as Dr. Lebel!"
"I'm recently in the market for a new Dentist and stumbled upon Dr. Lebel while searching on Yelp, the great reviews drew me in. I called to see if they would take a same day appointment and Dr. Lebel was kind enough to personally take my call and fit me into his already booked schedule. Everyone in the office was very friendly and happy. Dr. Lebel was very informative and caring about my teeth. Looking forward to my next appointment with him!"
"Dr. Tal Lebel is friendly and well-informed abouy dental care and hygiene. He explained what he was doing and what could be done to improve my teeth. I haven't been to the dentist for a while now and this visit was not as painful as I remembered. It is difficult to find a great dentist, so you whould definitely come here!"
Recent Articles
What Should Your Daily Dental Routine Consist Of?

Your teeth are important. You eat with them, and they make up your smile, which can be one of your best or worst features, depending on how well-cared-for your teeth are. But how do you maintain healthy teeth? The answer is quite simple, yet many people don't manage to keep their teeth clean and white because either they don't bother maintaining an effective oral care routine or they don't know what goes into an effective oral care routine…

Read More


What Can I Expect from Cosmetic Dentistry?

Your teeth say a lot about you, but no matter how beautiful they are, you might find yourself unsatisfied with WHAT they're saying about you or HOW they're saying it. After all, we all have our own sense of identity, and if some aspect of ourselves eddies against that identity, we're apt to feel a little discordant and dissatisfied…

Read More
If you need a professional dental service in Demarest, then please call Haworth Dental at (201) 384-1717 or complete our online request form.